It's so wierd........I feel like I can relate to various video game characters with my new haircut, but it's actually not that easy. In terms of hair, I mean. My hair is too short to be Rinoa's and too long to be Yuna's (the one on my background image). So I'm having a hard time deciding who I should dress up as for April's BBG fest. I go every year, and I haven't actually cosplayed yet. I dressed Japanese-style but I didn't dress as a specific character....but this year that's about to change. I'm thinking of going with a friend, and while she isn't really into anime, perhaps I can get her addicted.
;) [muhahahaha] Yeah.. and something is horribly wrong with my keyboard!! >:O Don't even ask. Anywho, who should I cosplay as?? Here are my top choices:
Yuna:
Cardcaptor Sakura (!!)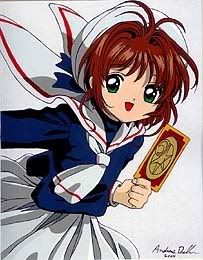 ....or some other character you know of that resembles me??
HEY - HERE'S AN IDEA!! or.........I could cosplay as a GUY and my friend (who's a girl) could cosplay as a girl. XD !!!!!!!!!!!!! We should so do that. What do you think?